Handmade Guitars Crafted Exclusively From Rare Mediterranean Woods.
Resurrecting the Holy Grail of Tone
What if you had to choose one instrument, one unique guitar that will be your lifelong companion? That question is what started our journey, and it later defined our mission here at Tone Revival Guitars: To resurrect the holy grail of tone.
We aim to create the best boutique guitar available today. Unique guitars with excellent playability, old-world skilled handwork and the best sound on the planet.
Using unparalleled craftsmanship, we make heirloom-quality custom guitars that will make you stand out from the crowd and be your lifelong companion.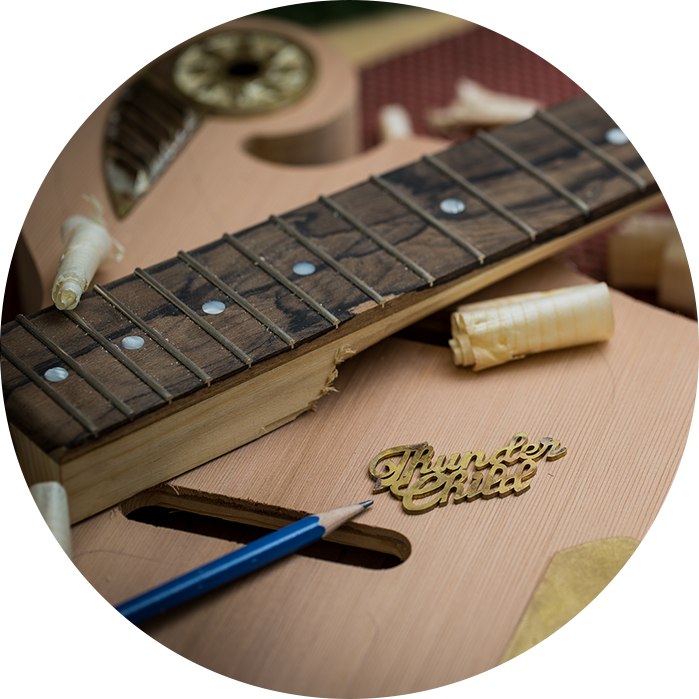 The Revival of the Handmade Guitar
To create our two Custom electric guitar models: "Spirit of the Wind" and the "Thunder Child", we've examined, restored, and played a wide array of instruments, sometimes outside the guitar realm, covering well over a century of workmanship; from antebellum gut-strung guitars, through grail acoustics such as Larsons, pre-war Martins, 40' Gibsons, and, of course, classic 50's electrics.
You will find that our boutique guitars are not another 50′ style relic replica, but an original design that celebrates the new revival of truly handmade guitars. Set against the harsh reality of the rising digital domain, we are defiant, and proud of our labor, artistic skills, and craftsmanship.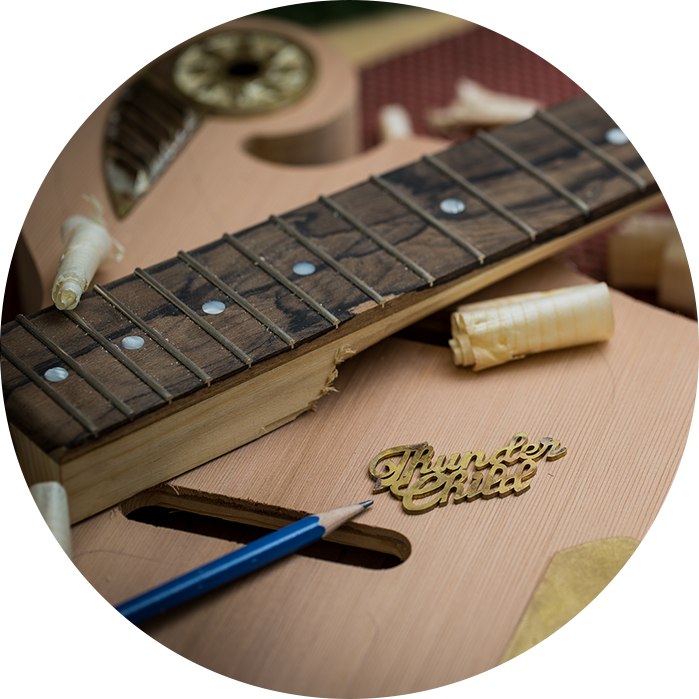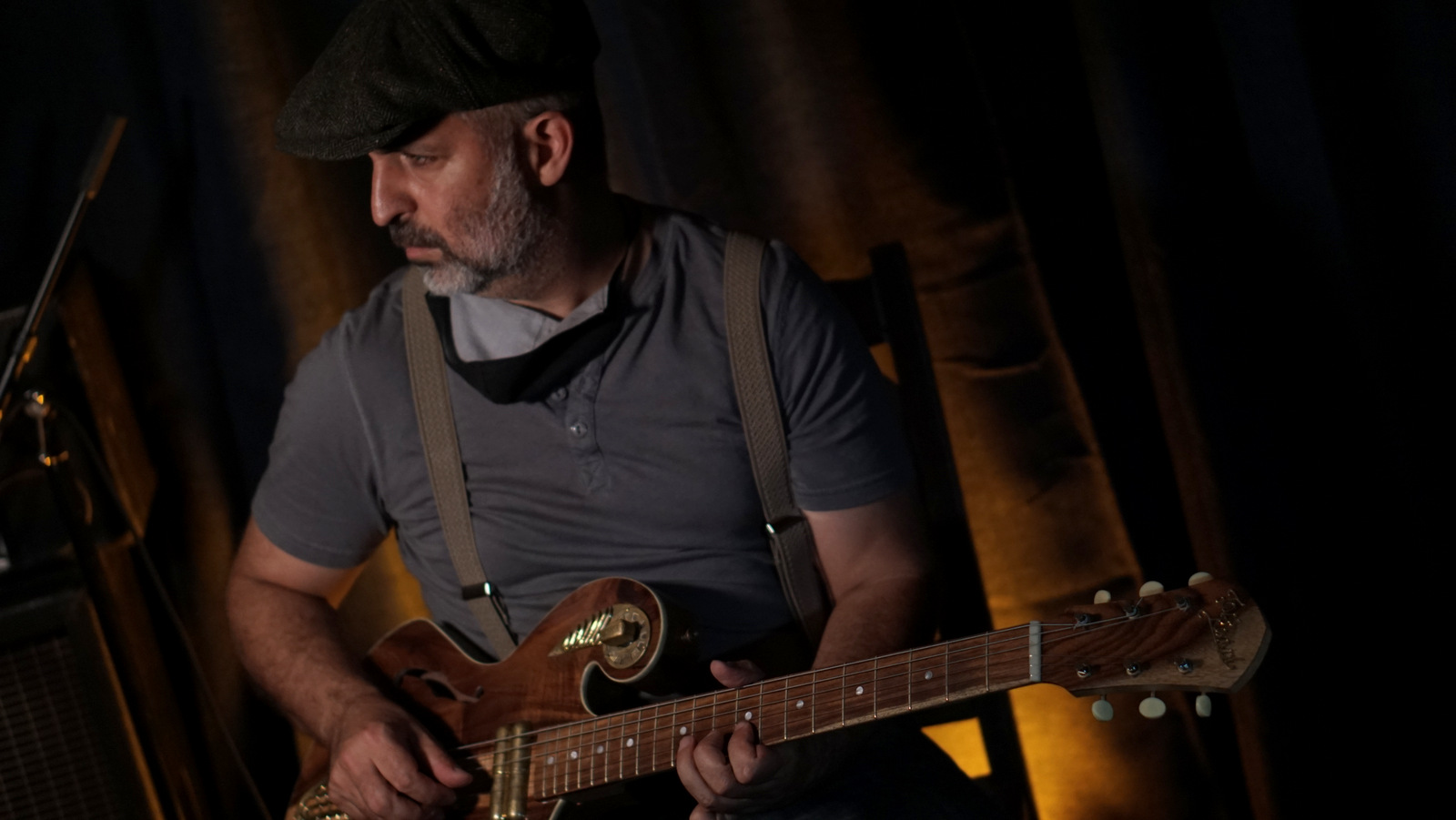 A few words about who we are.
David Weizmann, the award-winning designer, and the man who is responsible for the best debut guitar model in history- The electric parlor guitar that launched a thousand like it: The "Little Sister", which was designed for our friends at B&G Guitars and instantly became a modern classic.
David specializes in traditional metalwork and design, and is responsible for all our one-of-a-kind guitar hardware
Seems I get to be the first to express an opinion about your new creation. I love the look and the sound. You guys have a great eye for detail and a great ear for picking the right music/musicians to showcase your products. I love the old school look and sound. You guys ever consider building choppers count me in on that too... Absolutely love the hardware. Happy Thanksgiving to you all at Tone Revival!
Tony S
Congrats TRG on a KILLER guitar! Proud to have such a uniquely wonderful hand made instrument featuring my Nep-Tone Lipstick pickups.
Doug Tulloch
I am HAPPY to say that this guitar has a pleasing tone to any ear no matter its age. From a school-aged beginner to a seasoned pro guitarist there is no denying how perfect this Masterpiece sounds.I have listened to this video through my little laptop speaker and through my pro setup sound system. Both ways I am pleased and intrigued. I am ready to hear and see what you fellers got on the way for us down the road.
Joe Long
The guitar has arrived and I'm very impressed. After some little setup, it plays very well, and I'm just starting to explore the sounds. Recorded just some rhythm tracks for a new song of my band. VERY GOOD WORK, THANK YOU VERY MUCH. Even at the Kemper profiler, it works excellent on the volume and tone knobs, and tomorrow I will try my tube amps. I didn't expect that the back of the neck is so glossy, but it seems to behave completely different than the nitro lacquer of most Gibsons. Usually, I have tung oiled necks or satirized lacquers on my guitars, but it's no problem at all. This lacquer works! Again thank you for the excellent work. I will send a demo or video , when the guitar is on stage or in the studio.
Peter Liffers - Germany
Thunder Child Veloce - Judean Desert Acacia
A belated thank you. The guitar is safely at home and being played. Not as often as I would wish... I am extremely pleased with the guitar, the workmanship and the tones I have been getting (lack of my own ability notwithstanding !)
Thomas Richter
Thunder Child Veloce - Ancient Olive Wood
Anyone scrolling the comments, I bought the last Sonic wonder, and I only wish I had more time to sit down and really get to know it, every time I pick it up it's fantastic. I am not so much an electric player but I wanted something along the lines of a Telecaster that didn't say Fender or Gibson on it, and to buy a guitar like this, built where it is, by an individual such as the guy who built it, is both the pleasure and the privilege. And then after all that, you get to play the thing and that is absolutely sweet to play.
Keith Becker
Sonic Wonder Guitar - Made From Jerusalem Pine
Sonic Wonder arrived and it is glorious. I couldn't be happier. Love the body and wood grains, the imperfections are a huge plus for me. Great tones, wonderful metalwork, terrific neck carve, etc, etc.
Art Smith, Alabama
Thunder Child Veloce Guitar - Judean Desert Acacia
It just arrived safe and sound! It looks even better in person than it did in the pictures, really beautiful !! These are photos from a live performance. Guitar has great tones. Impressive! I do have to get used to the tone control switch though. I am use to toggle switch. Everyone that has seen it really loves it especially musicians and yes you are right that tone control button really brings out a lot of different tones.
Dr. Earnest Fulcher Jr, Maryland USA
Judean Desert Acacia Thunder Child Veloce