The Sonic Wonder Guitar- Our Jerusalem pine handmade guitar
The Story of the Sonic Wonder Guitar
The Sonic Wonder guitar came into existence after a 30 years journey.
It was during the early 90s, I don't remember the exact time, but I remember that I was looking at a guitar magazine when suddenly a photo grabbed my attention.
An old battered Tele hanging on a fence surrounded a ranch somewhere in the south of the U.S.
According to the photographer, the Tele was used on a daily basis, but it was left outside to the elements. There was no paint left on the guitar. Just bare grey wood.
On top of that, someone hammered a nail at the lower bout of the body that was used as a key holder.
The guitar had tons of mojo because there was no fake patina; it was not reliced.
I looked at the photo and realized that I was looking at the Swiss army knife equivalent in the form of a guitar.
The thing was that each time I tried a Tele, something didn't work for me. The sound was too thin, and the guitar was too heavy.
That was until I crossed paths with a 68′ Tele at a vintage guitar store in Tel Aviv.
It was surprisingly lightweight, had a swamp ash body, and sounded fantastic.
A few streets away, there was another vintage guitar store with some interesting instruments, but the thing that caught my attention was a 70's Tele custom with two full-range humbuckers.
It sounded great, had the same Tele vibe but with a unique tone of its own.
Now, one of the most famous guitars in the world is Keith Richards'
"Micawber." Probably the most iconic guitar in the world.
Many famous Stones tracks were recorded with this guitar, such as "Before They Make Me Run," "Brown Sugar," and "Honky Tonk Women."
The guitar itself is a 1950's Tele that was given to him as a gift for his 27th birthday by none other than Eric Clapton.
Initially, it boasted a typical single-coil pickup in the neck position, but shortly after the Stones 1972 tour, "Keef" replaced that with a 50s Gibson PAF humbucker to give it a little extra bite. Even more interesting about the humbucker is that Richards turned it backward so that the magnet poles face the tail end.
He removed the original bridge, changed it to a brass one with brass saddles, and probably rewired it in the early Esquire style.
Since Keef rarely uses guitar effects and uses the plug and play approach, you can sense that great guitar tone.
Years later, when I was cutting my teeth in building guitars, THAT was the original guitar that I wanted to build.
A Micawber, but since everyone was building T- style guitars, I decided as a designer to take another route and designed the "Little Sister," which became after I gave it to my friends at B&G guitars, the most successful debut guitar in history, but still, the simplicity, the tone of those two guitars continued to linger at the back of my mind.
On top of that, I've noticed that my friend, great singer and songwriter, Lonnie J. Good, who had both a Thunder Child and
a Little sister guitar always came back to using a 70s Tele Custom guitar, and eventually, when I asked him to describe for me his dream guitar, with all the specs, it was very close to a Tele Custom…
So, with that in mind, I've decided to create a unique instrument that will be the essence of these guitars.
I'll design a lightweight instrument with a great bridge pickup, brass hardware, and a great humbucker at the neck.
I had a few pieces of reclaimed, old-growth Jerusalem pine, which I've already used, and I knew that it was super responsive and lightweight.
I had a super lightweight reclaimed local, well seasoned Mediterranean Cypress neck with a local wild rosewood fretboard.
I've added a Lipstick humbucker, which I've used for the Thunder Child Veloce guitar (using the same coils made for me by Dano expert Doug Tulloch), and an excellent Broadcaster style pickup for the bridge.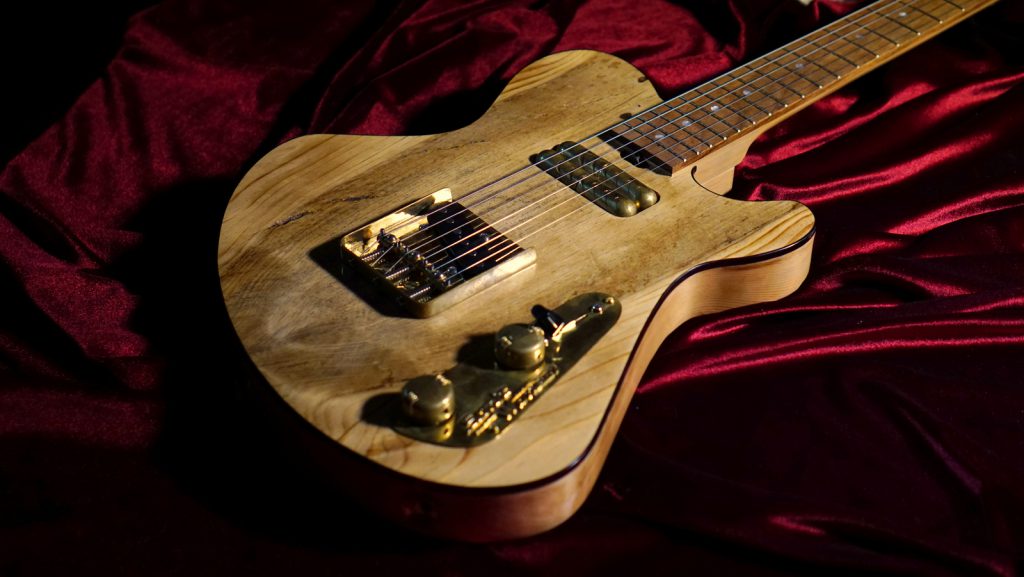 I've created bell brass hardware for it and a four-way selector switch, which included both pickups in a parallel and series configuration.
It took me a while to finish it, and through all this process, I was
curious.
Can I create something that would exceed my expectations, my memories?
After the initial setup, I took it. I held it, Just feeling the balance of the instrument and how lightweight it is.
I weighed it.
The scale showed 7 Lbs (3kg). Like the lightest swamp ash Tele.
Then I plugged it.
I played a few notes and waited as the beautiful sweet echoed from the walls, with lovely sustain.
Each position opened the door to endless classic tones.
Mission accomplished.
I've made another tonal time machine.
Body
Aged Lightweight local salvaged Jerusalem Pine/ Super lightweight reclaimed Scots Pine 
Top: Bookmatched salvaged local Jerusalem Pine.
Neck: Local salvaged Mediterranean Cypress
Fingerboard: Wild Local Rosewood
Hardware
Bridge plate: Tone Revival thick, high-quality bell brass
bridge plate.
Saddles-Tone Revival bell brass compensated saddles
Pickup covers: Tone Revival thick aged brass covers for improved shielding
Jack Plate: Tone Revival high-quality heavy brass Jack Plate.
Neck Plate: Tone revival "Two Bearded Men" aged brass neck plate
Electronics Cover Plate: Tone Revival bell brass 
Knobs: Tone Revival "Broad-cast" aged brass knobs
Tuning Machines: Golden Age Restoration/Waverly (+$200)
Strings: Rotosound .010-.046 (Other gauges available on request)
Electronics
Pickups: Wolftone bridge pickup Styled after early Broadcaster and Nocaster pickups, with 43 gauge Plain Enamel wire at about 10k for a hot vintage feel. Punchy, raunchy, and mean, this pickup will snarl without losing the Tele twangy goodness and won't rip your eardrums out!
Tone Revival neck humbucker made with Dano expert Doug Tulloch.
The most accurate 59′ lipstick pickup replica 
Potentiometers: CTS 
Capacitors: Orange Drops
Switch: Oak Grigsby 4-way 2-pole Lever Switch 
Jack: Switchcraft
Dimensions
Body Thickness: 41-43mm/1.61″-1.69″
Body Length: 380 mm/14.96″
Body Width: 330mm/12.99″
Total length: 930mm/36.61″
Weight: 3.0kg/6.6lb
Nut Width: 43mm/1.69″
* Due to the nature of hand work and variations in materials, slight deviations from dimensions, weight, texture and color may occur
Starting at $3100
Free express shipping to your door and a high quality Hiscox hardshell case included!
Payment terms:
A 500 USD refundable deposit is made when ordering, which gets you on the waiting list with an estimated time for the start of the build. 50% of the sum total is to be paid before we start building, with the remaining 50% to be paid before we ship the instrument.
Payable by Wire Transfer/Direct Deposit or PayPal.
*Depending on where you are from, some additional import fees / VAT may be imposed by your customs agency.
*Current expected delivery time: 8-12 weeks