An Upcoming Jerusalem Pine Underdog Handmade Guitar…
I've always had a soft spot for the Sears Catalog Guitars. This term refers to a line of acoustic and electric guitars that were sold through the Sears, Roebuck and Co. catalog from the late 19th century until the mid-1970s. These guitars were manufactured by various companies, including Harmony, Kay, and Danelectro, and were sold under different brand names, such as Silvertone, and Airline.
The Sears Catalog Guitars were affordable and accessible to many people, which made them popular among beginner and amateur musicians.
I've incorporated many of my favorite features of these instruments in my guitars, including certain design features and, of course, recreating the classic lipstick pickups.
One of the reasons that I love these guitars is the fact that they were made for a certain price tag and therefore had to find a solution or a formula for a guitar that would work and sound great under a certain budget and to this day, an in series lipstick pickups wiring is my favorite pickup/tone combination.
As a huge fan of the early Delta Blues, I've noticed how many of my heroes used the Sears Catalog Guitars as their (affordable) weapon of choice. So it has been my mission to create a boutique guitar with some of the design features of a catalog guitar, and that is how the Underdog model was developed.

A Judean Desert Acacia Underdog Guitar is also in the making…
As always, I use locally sourced salvaged exotic lumber such as Jerusalem pine and Mediterranean Cypress for the guitar's body and neck. I love working with these types of coniferous lumber, and the addictive scent of pine and cypress sawdust is an extra bonus.
There's a nearby carpenter who opens the workshop's door from time to time and sniffs with a smile on his face…
The body itself is chambered in order to reduce weight and give this instrument an acoustic quality.

My special lipstick humbuckers with sand casted Alnico 6 and hand wound plain enameled 42 AWG copper wire .
The finish is real Shellac, and I use the same French polishing techniques that were used up until the 1920s in order to give the instrument an organic look and feel. I've made all the brass hardware and hand-wound the pickups using plain enameled 42 AWG copper wire with Alnico 6 sand casted magnets just like the original ones from the 50s. This model will be available with four book-matched top options.Wild ancient Judean Desert Acacia, Wild Rosewood, Jerusalem Pine and ancient Olive.The guitar is equipped with a six-position rotary switch for classic humbucker and single coil tones, and as always, you get the bell-like signature tone of a handcrafted Tone Revival guitar by yours truly.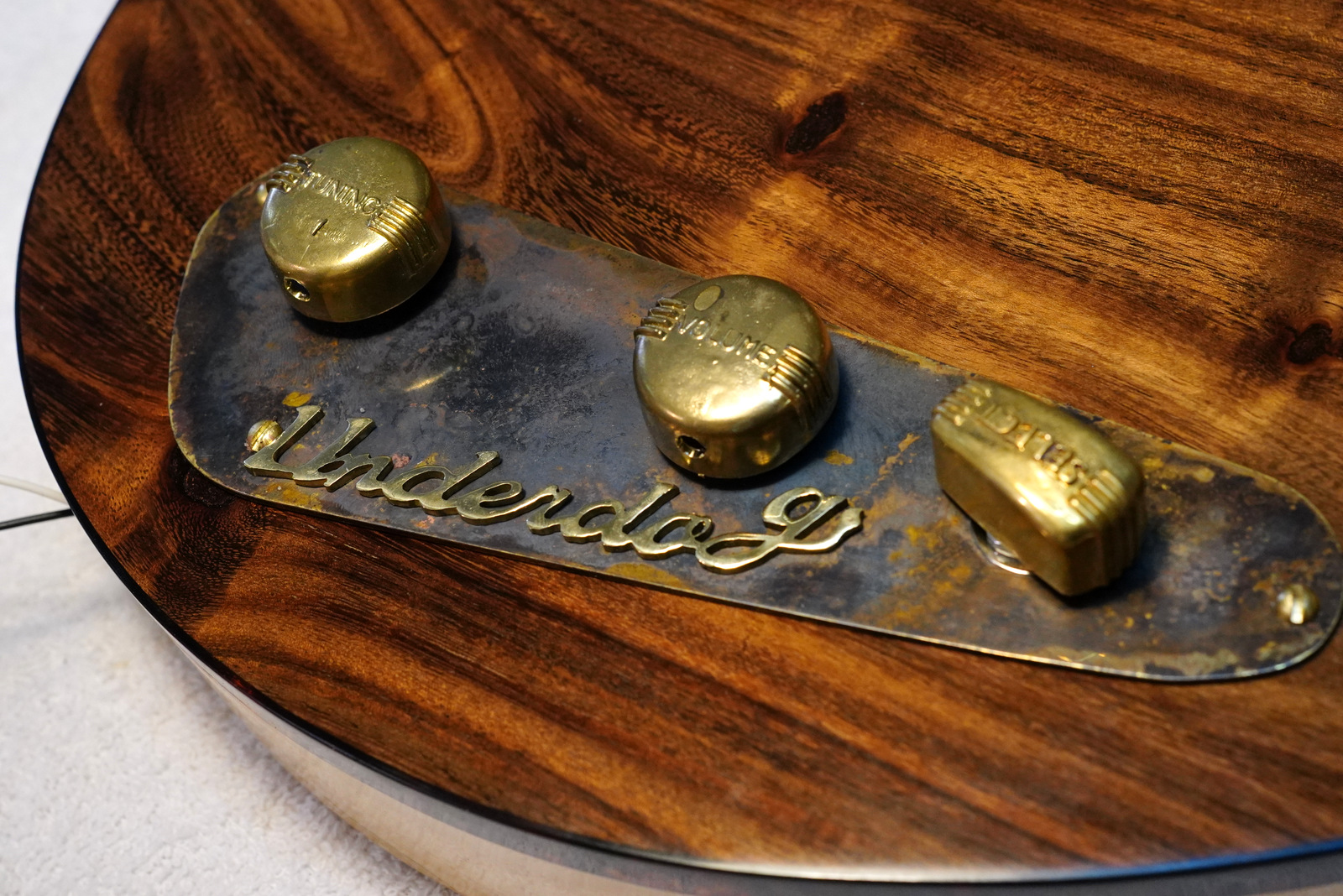 A six-way rotary switch with our signature bell-like tones!